Celebrate The Season At The Sparkle Sandy Springs Holiday Parade
December 8th, Festivities begin at 4:00pm and the Parade steps off at 5:30pm
The City will host its inaugural Sparkle Sandy Springs Holiday Parade on Sunday, December 8, 2019. There will be food trucks beginning at 4:00, a snow machine on the Green, the Sparkle Village (a great opportunity for family holiday photos), and a celebration of Hanukkah. The Parade will step off at 5:30 p.m. near the water tower, marching along Mount Vernon, concluding with a tree lighting at City Springs.
Sparkle attendees might catch a glimpse of an extra special guest as he checks his list one last time. Hot chocolate will help keep spectators warm before the parade. The night will end with the twinkling lights coming to life for the first time this holiday season. Sparkle Sandy Springs features a holiday village of artfully displayed six-foot-tall wooden houses painted in holiday themes and adorned with lights creating a magical, walkable light display that visitors can stroll through all season long.
"It's a season to be joyful, and we look forward to coming together as a community to ignite the sparkle of the holidays."

Know Before You Go
Parking and Rideshare Information
- Free parking available in the City Springs parking deck (see below for deck closure times)
- Free parking available at the Century Springs Office Complex at Hammond and Lake Forest. Limited shuttle service will be available in this parking lot. As portions of the road will be closed, please enter Century Springs from Hammond Drive.
- Free parking available in the South Parking lot near the City Green. Please access the parking lot from Hilderbrand or Blue Stone.
- Use this address for rideshare: 6405 Blue Stone Rd, Sandy Springs, GA 30328
- Handicapped parking will be available in the parking deck.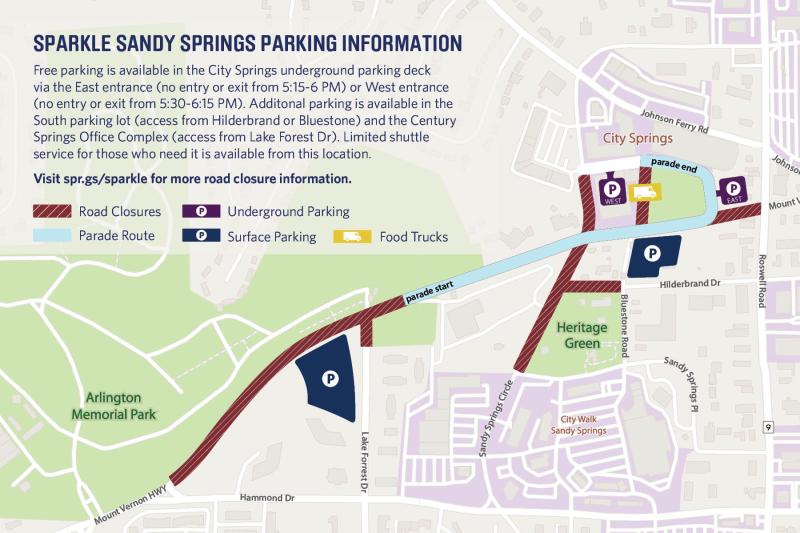 PLEASE BE AWARE that there will be additional road closures around the parade (all times are estimates):
Blue Stone Rd from Galambos Way to Mt Vernon Highway: 12:00pm - 7:00pm
Mt. Vernon from Hammond Drive to Sandy Springs Circle: 4:45pm - 7:00pm
Lake Forest Drive at Mt. Vernon: 4:45pm - 7:00pm
City Springs East Parking Deck entrance: 5:15pm-6:00pm
Mt. Vernon from Roswell Road to Sandy Springs Circle: 5:15pm - 6:00pm
Galambos Way from Mt Vernon to Blue Stone Road: 5:15pm - 6:30pm
Sandy Springs Circle from Sandy Springs Place to Galambos Way: 5:15pm - 7:00pm
Blue Stone Road at Mt. Vernon: 5:15pm - 7:00pm
Hilderbrand from Blue Stone Road to Sandy Springs Circle: 5:15pm - 7:00pm
Galambos Way from Blue Stone to Sandy Springs Circle: 5:30pm – 6:15pm
City Springs West Parking Deck entrance: 5:30pm-6:15pm
2019 Participating Artists
Act 3 Productions, Calyroad Creamery, Chick-fil-A Northridge, Children's Healthcare of Atlanta, Community Assistance Center, Crestwicke HOA, Davis Academy, Excel Chiropractic, Friends of Lost Corne, Glenridge-Hammond HOA, High Country Outfitters, Holy Innocents' Episcopal School, La Dee Da, Mount Vernon Presbyterian School, North Georgia School of Ballet, North Springs High School, Riverside HOA, Riverwood International Charter School, Sandy Springs Youth Sports, Sips n Strokes, Trader Joe's Sandy Springs, Young Chefs Academy

Thank You To All Of Our Event Sponsors!