Missed out on getting tickets to your favorite sporting event, but don't feel like watching it at home? Lucky for you, Sandy Springs has tons of great sports bars, pubs, and restaurants where you can enjoy the game and maybe a drink or two!
Clay's Sports Cafe
Renowned for their delicious wings, Clay's Sports Café is a pub-style food gem in Sandy Springs. Mix and match some their famous sauces to ensure you're getting the full Clay's experience.  The restaurant itself has limited seating, so make sure you plan accordingly to get a spot. Trust us, people will come from far and wide to try out their wings!
Chef Rob's
Recently reopened after renovation, Chef Rob's Caribbean Café provides an upscale atmosphere and some truly delicious eats. Not often do you get the chance to try some slow-cooked, fall-off-the-bone oxtail, while watching your favorite team compete. This might be a once in a lifetime kind of opportunity. Don't let it go to waste!
Hudson Grille
If you need a place to catch any sporting event, not just March Madness, Hudson Grille might be the spot for you. They have multiple locations in Georgia, with one in the heart of Sandy Springs. They have great food, and more TVs than you could ever need. They'll have every sporting event you can imagine playing. Walk in on the right day and they might be showing athletes vigorously sweeping ice in some competitive curling. They are also able to accommodate larger parties as well, so don't be afraid to bring friends!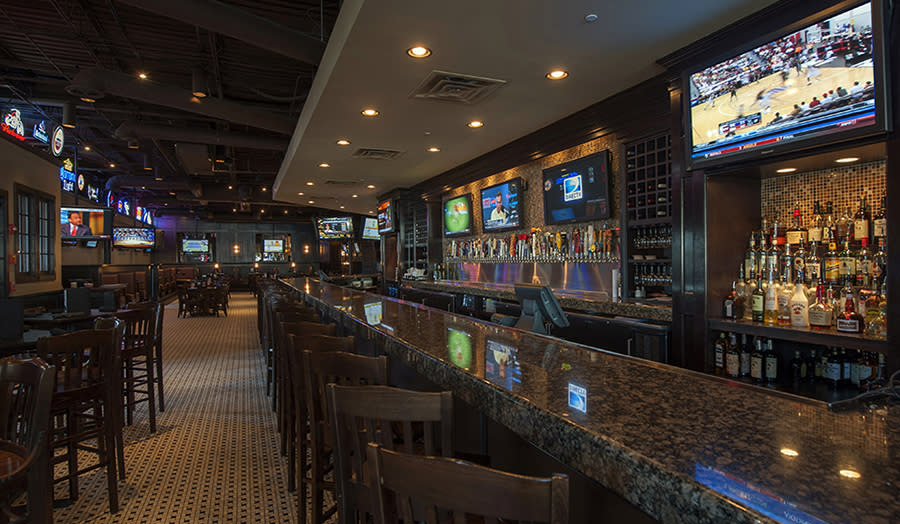 Mutation Brewing Company
Mutation Brewing is the newest brewery in Sandy Springs, celebrating their one-year anniversary this past January. They have their own original brews, and a very cool location with plenty of outdoor seating. Try out their Liquid Hop Magma New England IPA or their Ambrosia Euphoria fruit sour for an authentic Mutation experience. If you are looking for an upbeat atmosphere with plenty of great beers on tap, then this might be a good option for you!
Pontoon Brewing
Maybe the most well-known brewery in Sandy Springs, Pontoon Brewing is another perfect stop for beer lovers. Like Mutation Brewery, they too just recently celebrated an anniversary! 5 years of supplying some awesome craft brews to the Sandy Springs community, and we couldn't be more honored to have them in our city! Now is the perfect time to check them out if you haven't already. Catch your favorite team in action while putting down a few cold ones!
Springs Cinema & Taphouse
A movie theater probably wouldn't be your first thought when it comes to watching sports, but the Springs Cinema & Taphouse isn't just any old movie theater. They've got a fully-stocked bar and some delicious food that will surely keep you satisfied while you watch the action on the big screen. They're always hosting watch parties for big games like the Super Bowl or the NBA finals. Check out their website to stay up to date on any and all events.
North River Tavern
Appropriately located on the north-end of Sandy Springs near the Chattahoochee River, North River Tavern is a popular spot for local beer lovers and bar trivia fans. Don't worry about getting there early to get a good seat, as they have over 30 TVs throughout the restaurant for your viewing pleasure! Try out their famous U.F.O. burger while you're there!
Taco Mac
Not that you can go wrong with any of the spots on this list, but you really can't go wrong with Taco Mac. They know what their role is, and they do it well. They provide an optimal gameday experience, through some good food and a whole lot of beer. You can even join their "Brewniversity" program to stay in the college spirit while earning rewards!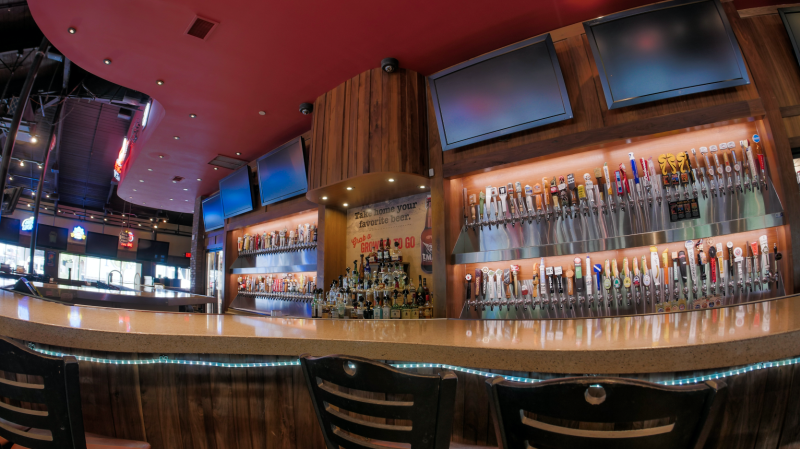 Three Dollar Café
It doesn't get much better than Three Dollar Café if you're looking for a traditional, all-American style dining experience. Much like the other options on this list, there are plenty of TVs so everyone in the restaurant will have a great view. You can expect some game-day specials as well, and if you're a beer lover, they have plenty of options to choose from!
Thos. O'Reilly's Public House
A local favorite, Thos. O'Reilly's Public House has a wide variety of savory Irish cuisine, and a fully-stocked bar to boot. They recreate the lively atmosphere that Irish pubs are known for and offer a truly fun sports-watching experience! They're always showing any big sporting event, so make sure to stop by for a pint and some tasty food when your team is playing.
There are plenty of spots to check out in Sandy Springs to watch you favorite team play, this list is just scratching the surface! Click the link below to check out the rest of our restaurant offerings.