Turkey Day is almost here! As you prepare to spend time with family and eat all your favorite holiday dishes, make sure to save room for a few of these other fun things happening in Sandy Springs!
Where To Dine In
Don't feel like cooking? A wide variety of restaurants are offering dine-in and catering services to help make your Thanksgiving one to remember.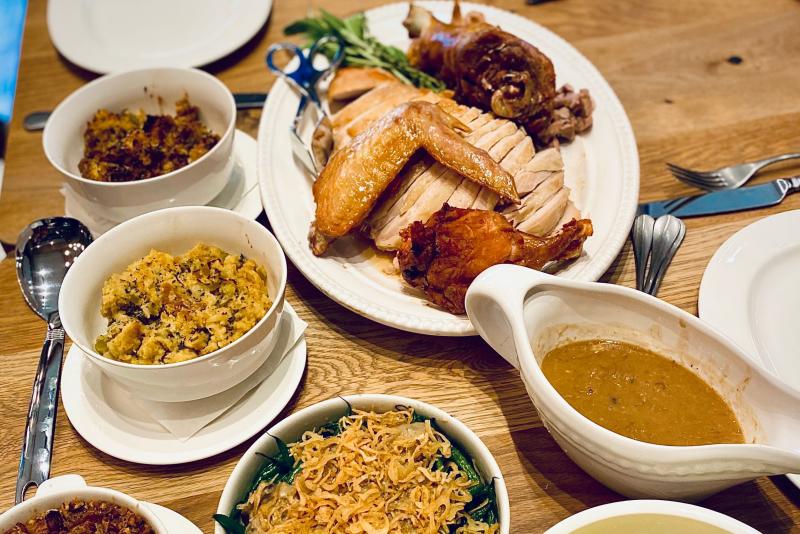 The Select
Located in Market Square at City Springs, The Select offers contemporary Continental cuisine with a French influence that focuses on fresh, local ingredients. They will be open for dine-in and takeout from 12 p.m. to 5 p.m. on Thanksgiving Day. They are also offering a to-go dinner for 2 for $120. It includes a 16 oz turkey, a ton of delicious sides, and even dessert!
Cibo e Beve
Cibo e Beve serves up creative Italian fare & craft cocktails in a warm, intimate space. For Thanksgiving Day, they will be serving a traditional American Thanksgiving dinner only from 11:30 a.m. to 5:30 p.m.
Zafron Restaurant
Zafron is a colorful restaurant serving an extensive menu of traditional Persian and Iranian cuisine. They will be offering a special prefix Thanksgiving menu that includes turkey, traditional sides and dessert for $50 per person from 2 p.m. to 8 p.m.
Mojave
Mojave is a Latin American restaurant that offers a large menu with bold flavors, along with handcrafted cocktails. They will be open from 11 a.m. to 11 p.m. on Thanksgiving, and they will be serving their full menu and a special family-style option that serves four people.
Ray's on the River
With scenic views of the Chattahoochee River, Ray's on the River makes for a memorable family meal. Ray's Thanksgiving Day Dine-In Buffet is $70 per person. They are open Thanksgiving Day from 11 a.m. to 7 p.m.
Where To Get Catering
Breadwinner
Breadwinner is a favorite local lunch spot known for their homemade breads. They have special Thanksgiving and Hanukkah catering menus available. Place your order by November 18th for pickup on November 23rd between 2-5pm!
City BBQ
Interested in making your sides, but want help with the turkey? You can order a whole smoked turkey or ham for $89.99 at City BBQ. Call the Sandy Springs location to reserve your turkey today.
McDaniel's Qn2 BBQ
Formerly Slopes BBQ, McDaniel's Qn2 has been a long standing restaurant in the Sandy Springs dining scene. For the low price of $1.75 per lb, you can bring in your own turkey for them to prepare for you! You can also opt to buy turkey from them for $7.25 per lb, and don't worry about sides; they offer those too!
Southern Bistro
Southern Bistro knows southern cooking, so you can bet they make a mean Thanksgiving feast! Place your order by November 18th to receive a 15lb turkey and extras of your choosing!
What To Do
There are also plenty of things to do in Sandy Springs once you've filled your stomach. Gather up the family, and consider doing one of the following activities.

Sparkle Village
The Sparkle Village is an outdoor light display at City Springs. It features tiny houses lovingly decorated with fun holiday themes by local businesses and organizations. With twinkling lights on the houses and trees, a giant Christmas tree and a Menorah, there are endless photo opportunities! It will be open from Thanksgiving until New Years.
Hike East Palisades
Known for its overlook of the Chattahoochee River, the East Palisades trail unit of the Chattahoochee River National Recreation Area is one of most scenic and rewarding hikes in metro Atlanta. It's the perfect place to get in some exercise before or after your big meal/ It's also a great spot for a special family photo-op.
See A Movie
There are some big movies in theaters this November, including superhero flicks "Black Adam" and "Black Panther: Wakanda Forever". You can catch them at The Springs Cinema and Taphouse, which has heated reclining seats, a full bar, and a food menu with pizza, sliders and more. They're even hosting an "Elf" watch party on the 26th, which is sure to be a ton of fun!
See The Nutcracker
Roswell Dance Theatre is bringing The Nutcracker back to the Byers Theatre. This beloved annual tradition kicks off on November 26 and runs through December 5. This is the perfect show to get the whole family into the holiday spirit. Buy tickets here!
Shop Small Saturday
There's no better year to embrace shopping small than this one. Sandy Springs is home to many unique small businesses where you can find the perfect gifts for loved ones this holiday season.

Happy Thanksgiving from Visit Sandy Springs!