When it is hot out, there is no better activity in Sandy Springs than a leisurely float down the Chattahoochee River. Sandy Springs is home to three units of the Chattahoochee River National Recreation Area and city parks that also have access to the Chattahoochee River.
We've rounded up a list of tips for how to have the best day on the water. We're going to break this down by the trip type to give you a better idea of what to expect, but first we have a list of things we recommend for everyone.

Planning Your Trip On The Chattahoochee River:
There are two main ways to plan your river activities in Sandy Springs. You can book a trip with an outfitter who will provide you with all the equipment you need and help you get in the water, or you can bring your own gear and choose your own drop-in spot. There are access points to the river at Island Ford, Powers Island and Morgan Falls Overlook Park. If you decide to bring your own tubes and won't have paddles, we recommend bringing two cars. Park your getaway car at the spot you plan to get out at and then drive your other car with the tubes back to the start.
Always make sure to check the weather and water conditions before you head out. You can find important alerts about the current conditions of CRNRA parks on the National Park Service website. 
What You Need To Float On The Chattahoochee River:
Whatever you are going to float on of course! That could be a kayak, tube, paddleboard, raft or canoe. You can rent kayaks and paddleboards from High Country Outfitters or rafts, tubes, kayaks and paddleboards from Nantahala Outdoor Center if you do not have you own. If you purchase your own tube, make sure you have a way to inflate it.
Life jackets. If you are not renting from an outfitter that provides them, don't forget to bring your own.
Sun protection including sunscreen, a pair of sunglasses with a strap to keep them from falling off, and a hat or visor to protect your face.
Water! Bring plenty of water and some snacks to keep your energy up while out in the sun. You can usually bring a cooler no matter what type of vessel you are in, but remember that glass is not allowed on the Chattahoochee.
Additional Things We Recommend For Your Outdoor Adventure in Sandy Springs:
Buy a case to protect your phone so you can still use it without worrying about dropping it in the water.
Bring a wireless speaker to enjoy music while you float. A certain Alan Jackson song will be perfect for your playlist!
Pack a picnic. Get sandwiches to-go from a spot like Breadwinner, or grab a fried chicken meal from Gus's World Famous Fried Chicken or Publix. Enjoy in the park before you float or bring your snacks with you to enjoy on the water. Paddleboards and kayaks can usually fit a small cooler. If you are bringing your own tubes, consider buying one with a built in cooler or buying an additional tube for a bigger cooler.
If you do pack a picnic, make sure you have a trash bag handy. Keep the Chattahoochee clean by picking up after yourself.
Remember to recreate responsibly and respect the space between you, other park guests, and the staff at the outfitters. 

What to know about tubing in Sandy Springs:
This is probably the most relaxing and affordable way to spend the day on the river. You can rent a tube from NOC, but you can also purchase your own tubes online or from a sporting goods store. All you have to do is inflate your tubes, connect all the tubes in your group together, drop them in the water and set sail. Without a paddle, tubing is a slow one-way trip. You will want to watch out for rocks and tree branches that can pop your tube. Wear shoes so you can stand and push your tube in shallow water if you need to. Tubing can take a long time if the current is not strong, so make sure you plan your day out with some flexibility and bring plenty of water!
A tubing trip with NOC starts at Powers Island. The entire trip is about three and a half miles and takes about half a day. Tube rentals from NOC start at $25.

What to know about paddleboarding in Sandy Springs:
Okay, we know that paddle boarding can look a little intimidating if you have never done it before. It does take some balance! However, you do not have to stand on a paddleboard to enjoy your time out on the water. You can sit or kneel if you are worried about staying on. If you are brave, you can try your hand at SUP yoga.
Morgan Falls Overlook Park is a great place for beginners to learn because the current is not as strong as other spots on the Chattahoochee River. It is easy to take off from the dock and make a loop around before heading back to the start, so you do not have to worry about handling a long trip. You can rent paddleboards from High Country Outfitters for $25 per hour and their guides will show you everything you need to know if you have never been on a paddleboard before.
If you are a looking for a longer excursion, you can also rent paddleboards from NOC at Powers Island starting at $50 for a half-day trip. During this trip, you may need to maneuver around more bends and rocks, so you will need to have good balance and skillful paddling. 
What to know about kayaking in Sandy Springs:
Kayaks are a great way to explore the Chattahoochee River. They are easy enough for beginners to use, but sturdy enough to handle rocks and small rapids. Though they can be a bit of a workout, kayaks allow for longer and more adventurous trips. You can rent a single person kayak for $25 per hour or a two-person kayak for $35 per hour from High Country Outfitters at the Paddle Shack at Morgan Falls.  You can also rent inflatable or sit-on-top kayaks from NOC for $35 for a half-day at Powers Island. NOC also offers an introduction to whitewater kayaking course for $130. This full day beginner's course teaches you important kayaking basics like paddle strokes, boat control, and safety maneuvers and can be done at Island Ford or Powers Island.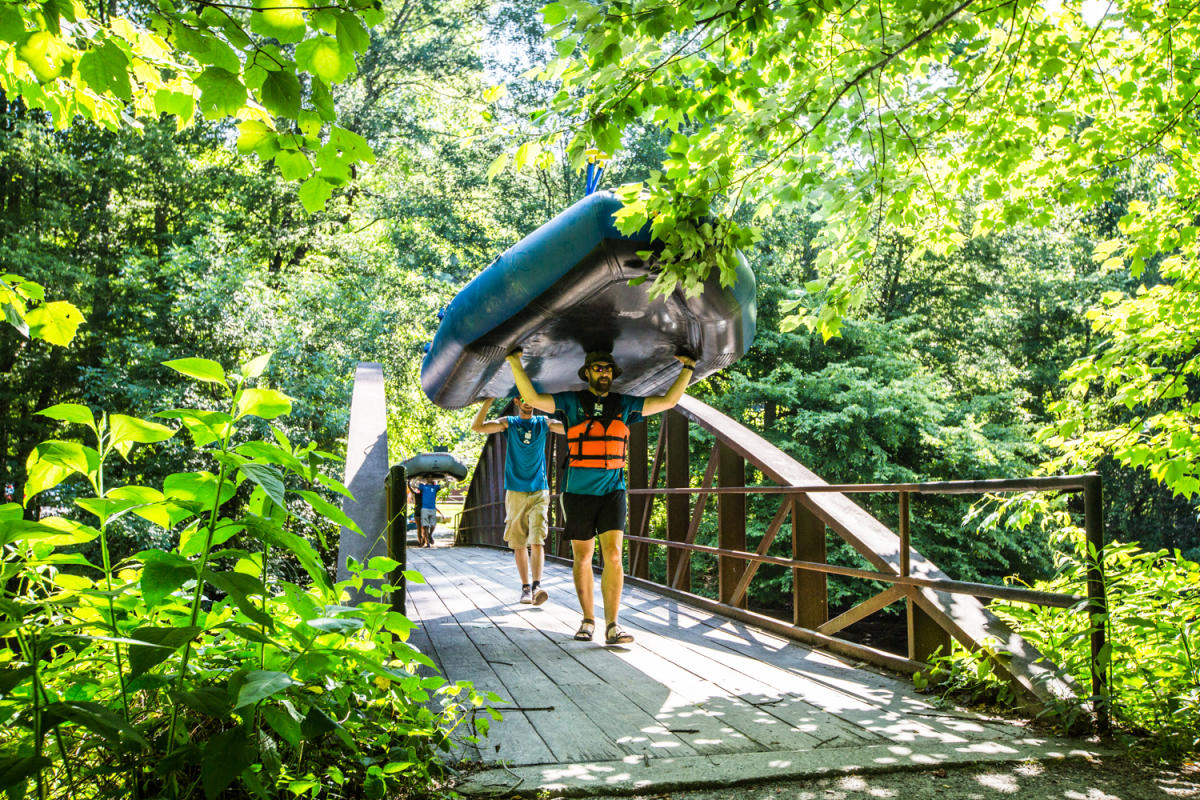 What to know about rafting in Sandy Springs:
If you and the whole family want to stay together, then rafting may be the best fit! You will treat a raft much like a canoe and work together to maneuver around the river. The most important thing to note about booking a raft trip with NOC is that there is a minimum of three people required for your trip. Rafting with NOC stars at $35 per adult and can be done at Powers Island or Island Ford.