Since Sandy Springs' incorporation in 2005, cultivating culture and investing in parks and recreation has been at the forefront for local government. These initiatives have already paid dividends by providing public works of art and a multitude of parks and amenities throughout Sandy Springs. Lucky for us, they also double as perfect spots for picturesque Instagram photos! Below is a short-list of our favorite locales, but this is only scratching the surface of all Sandy Springs has to offer.
1. Art Walk
1 Galambos Way, Sandy Springs, GA 30328
As part of the fourth annual ArtSS in the Open Sculpture Competition, multiple sculptures have been installed around the City Green entertainment lawn at City Springs. The sculptures include Hanna Jubran's "Earth Water Wind Fire", Gwendolyn Kerney's "Moon Man Moves", and more. These works of art add so much color and life to the already vibrant City Springs, and they also make for a great photo op. Take a self-guided tour through this outdoor gallery, you won't be disappointed!
Be on the lookout for five of 2021's ArtSS winners being moved to Marsh Creek Rain Garden. You can also find others in various locations around Sandy Springs, such as the Abernathy Greenway or the public library!
2. Murals at The Prado Parking Garage
5600 Roswell Rd STE 200, Sandy Springs, GA 30342
Parking garages, with their gray blocks of concrete, are the last place one might expect to find art. This idea is exactly what led Mr. Totem, a mysterious local graffiti artist, to spice things up at a local shopping center. Thanks to him, three levels of the parking garage at
The Prado
shopping complex are decorated with colorful, floor-to-ceiling murals. Now, visitors can enjoy these eye-catching works of art while they wait for the elevator to their cars.
3. Poppi's Point
1425 Indian Trail Sandy Springs, GA 30327  
Built in honor of park advocate, Michael Weinstock, Poppi's Point is a beautiful overlook, located on the East Palisades Trail. It has a scenic view of the Chattahoochee and a hint of cityscape looming in the horizon. It also has a platform with a few benches that provide a welcomed resting spot during your hike.
This spot is located in between EP 10-14 (indicated by the red arrow) on the trail map, which can be about a mile into the hike depending on where you start.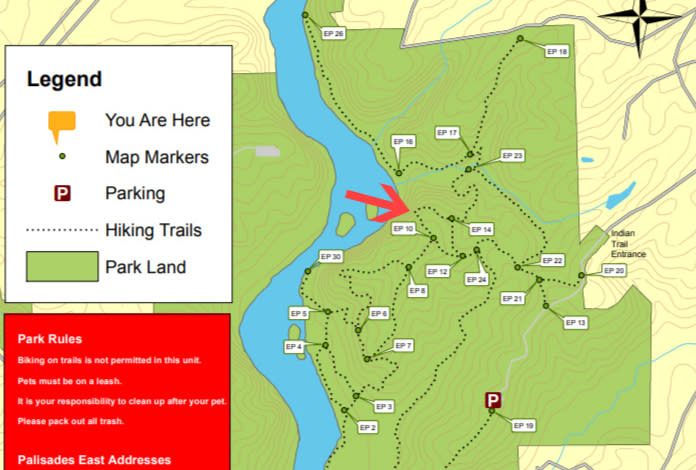 4. Bamboo Forest
1425 Indian Trail Sandy Springs, GA 30327
Also located on the East Palisades trail, the bamboo forest is a place you simply have to visit. This enchanting combo of a bamboo forest nestled up to the Chattahoochee river makes for a great photo, as well as a one-of-a-kind experience!
You can easily hit up both Poppi's Point and the forest in one go! It's located at EP 26 (indicated by the red arrow). It can be a bit tiring of a journey, but it's well worth it!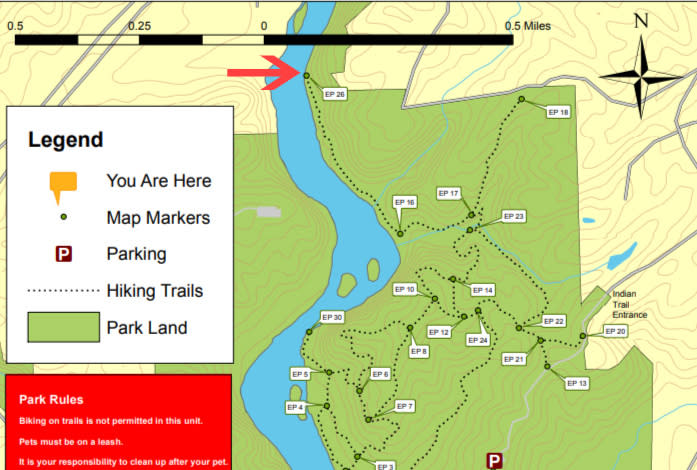 5. Spiderwalk
70 Abernathy Rd NE, Sandy Springs, GA 30328
One of the playable masterpieces at the Abernathy Greenway, Spiderwalk is a spider-inspired jungle gym that was installed in 2014. The artist, Phil Proctor, says he got the idea for Spiderwalk when he realized that both his wife and young daughter were terrified of spiders. By turning a spider into something fun and non-scary, he believes he can help kids (and adults) overcome this common fear. The enormous sculpture is bright yellow and features ladders, handles, and long spindly legs where kids can climb and play.
6. Low-Poly Open Heart 
6110 Blue Stone Rd, Sandy Springs, GA 30328
Tucked into the beautiful lawns of the Heritage Sandy Springs Amphitheater, Low-Poly Open Heart is a symbol of love in multiple ways. It was created by artist Matthew Duffy as part of a series inspired by him missing her while she was overseas on a business trip. It was then purchased in memorial for Sandy Springs resident Ruth Hackner by a group of her friends. Now, it sits beside a popular wedding venue and makes an excellent addition to couples portraits. 
7. Morgan Falls Overlook Park
400 Morgan Falls Rd, Sandy Springs, GA 30350  
One of Sandy Springs most iconic locations, Morgan Falls Overlook Park provides multiple settings and backdrops for a great picture. Head down the walkway to the dock for a beautiful lakeside view, or just up the stairs to the historic home-site of the Power family, a group of pioneers that operated a ferry there for over a hundred years. All that's left of their home is a lone chimney, but the addition of a fire pit and bench swings make for a picturesque spot.
The next time you find yourself walking around Sandy Springs, be sure to have your camera at the ready to capture the beauty the city has to offer.
Written by Madison Eubanks for Matcha in partnership with Sandy Springs GA.