Turkey Day is almost here! As you prepare to spend time with family and eat all your favorite holiday dishes, make sure to save room for a few of these other fun things happening in Sandy Springs!
Where To Dine In
Don't feel like cooking? A wide variety of restaurants are offering dine in and caterings services to help make your Thanksgiving one to remember.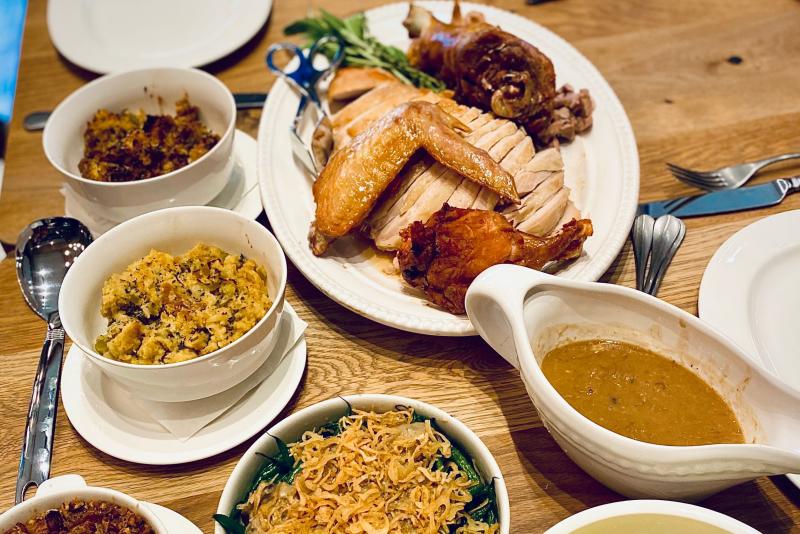 The Select
Located in Market Square at City Springs, The Select offers Contemporary Continental Cuisine with a French influence that focuses on fresh, local ingredients. They will be open for dine-in and takeout from 12 to 6 p.m. on Thanksgiving Day.
Cibo E Beve
Cibo E Beve serves up creative Italian fare & craft cocktails in a warm, intimate space. For Thanksgiving Day, they will be serving a traditional American Thanksgiving dinner only from 11:30 a.m. to 5:30 p.m.
Zafron Restaurant
Zafron is a colorful restaurant serving an extensive menu of traditional Persian and Iranian cuisine. They will be offering a special prefix Thanksgiving menu that includes turkey, traditional sides and dessert for $45 per person from 1 p.m. to 8 p.m.
Mojave
Mojave is a Latin American restaurant that offers a large menu with bold flavors and handcrafted cocktails. They will be open from 11 a.m. to 11 p.m. on Thanksgiving, and they will be serving their full menu and a special family style option that serves four people.
Ray's on the River
With scenic views of the Chattahoochee River, Ray's on the River makes for a memorable family meal. Ray's Thanksgiving Day Dine In Buffet is $65 per person. They are open Thanksgiving Day from 11 a.m. to 7 p.m.
Plant Based Pizzeria
If you are a vegetarian or vegan, Plant Based Pizzeria will be offering a special menu on Thanksgiving Day from 1 p.m. to 9 p.m. It will include plant based meatloaf, jackfruit pot roast, mac and cheese, mixed greens, yams and dressing.
Where To Get Catering
Breadwinner
Breadwinner is a local favorite lunch spot known for their homemade breads. They have special Thanksgiving and Hanukkah catering menus available to order through November 19 for pickup on November 24 from 2 to 5 p.m.
Serendipity Catering
Serendipity Catering, a popular local caterer, is ready to take the work off your plate with their Thanksgiving menu. You can get a complete Thanksgiving feast for 10 people for $150.
City BBQ
Interested in making your sides, but want help with the turkey? You can order a whole smoked turkey or ham for $89.99 at City BBQ. Call the Sandy Springs location to reserve your turkey.
Under The Cork Tree
For a smaller group, Under The Cork Tree offers a traditional yet elegant menu that feeds two for $75. It includes turkey, salad, and two sides. You can also add on a bottle of wine to compliment your meal.
What To Do
There is also plenty of things to do in Sandy Springs once you have filled your stomach. Gather up the family and consider doing one of these activities.

Sparkle Village
The Sparkle Village is an outdoor light display at City Springs. It features tiny houses lovingly decorated with fun holiday themes by local businesses and organizations. With twinkling lights on the house and trees, a giant Christmas tree and a Menorah, there are endless photo opportunities! It will be open from Thanksgiving until New Years.
Hike East Palisades
Known for its overlook of the Chattahoochee River and bamboo forest, the East Palisades unit of the Chattahoochee River National Recreation Area is one of most scenic and rewarding hikes in metro Atlanta. It's the perfect place to get in some exercise before your big meal and to take a special family photo.
See A Movie
There are some big movies in theaters this November, including "The Eternals", "Encanto", "Ghostbusters: Afterlife." You can catch them at The Springs Cinema and Taphouse, which has heated reclining seats, a full bar, and a food menu with pizza, sliders and more.
Visit Downton Abbey: The Exhibition
Downton Abbey: The Exhibition, based on the beloved television show, transports you to post-Edwardian England, where the characters and the iconic house come to life. You'll be immersed in the fascinating social history, culture, and some of the most memorable moments from the show's six-season run.
See The Nutcracker
Roswell Dance is bringing The Nutcracker back to the Byers Theatre. This beloved annual tradition kicks off on November 26 and runs through December 5. This is the perfect show to get the whole family into the holiday spirit.
Shop Small Saturday
There is no better year to embrace shopping small than this one. Sandy Springs is home to many unique small businesses where you can find the perfect gifts for loved ones this holiday season.

Happy Thanksgiving from the Visit Sandy Springs!