Food That Rocks returns to City Green at City Springs September 23-25, 2021! This annual 21-and-up outdoor food festival is a true celebration of the culinary scene in Sandy Springs. Purchasing an all-inclusive ticket allows attendees to enjoy as many delicious food and drink tastes as they like, and there are more reasons this year than ever before to attend. Read on for our top seven.

1. It's a Multi-Day Event
Food That Rocks is normally a one night event, but this year it's be broken up into four sessions across three days to help keep attendee numbers down and encourage safe distancing. The event will be held at City Springs with sessions from 7 p.m. – 10 p.m. September 23-25, 2021, and an afternoon session on September 25 from noon – 3 p.m. Each session will feature food and drinks from some of Sandy Springs' most popular local restaurants. So, no matter what your weekend schedule looks like, you have four opportunities to enjoy some bites and beverages.
 
2. The Food is Sensational
From classic southern comfort food to authentic Italian creations, Sandy Springs is known for its wide variety of outstanding restaurants. Food That Rocks brings together some of the very best local restaurants, so you can enjoy their delicious cuisine all in one place. One minute you might be biting into a juicy slider, and the next savoring some spicy Caribbean jerk chicken. You never know what new and exciting refreshments might be in store.
Samples are "all you can eat," making this festival a true paradise for food lovers. And make sure to save room for dessert, as local bakeries will be offering bite-sized sweets to cap off your tastings. Click here for a full list of participating restaurants.
This year's restaurant line-up includes local favorites like il Giallo Osteria and Bar, Chef Rob's Caribbean Café, and Hammocks Trading Co., as well as some brand new additions to the Sandy Springs dining scene like Tre Vele and Kid Cashew Wood Fired Grill.
 
3. There Are Plenty of Bevs to Pair With Your Bites
Whether you prefer beer, wine, or spirits, you'll find your drink of choice (and many more) at Food That Rocks. Beverage samples are unlimited, so you can select whatever craft beer, handmade cocktail, or quality wine pairs best with your food samples. You might even try something that becomes your new favorite. Sandy Springs' best bartenders and mixologists will be on-site to create and serve up your beverages, and there will be plenty of non-alcoholic options available.

4. There's Great Live Music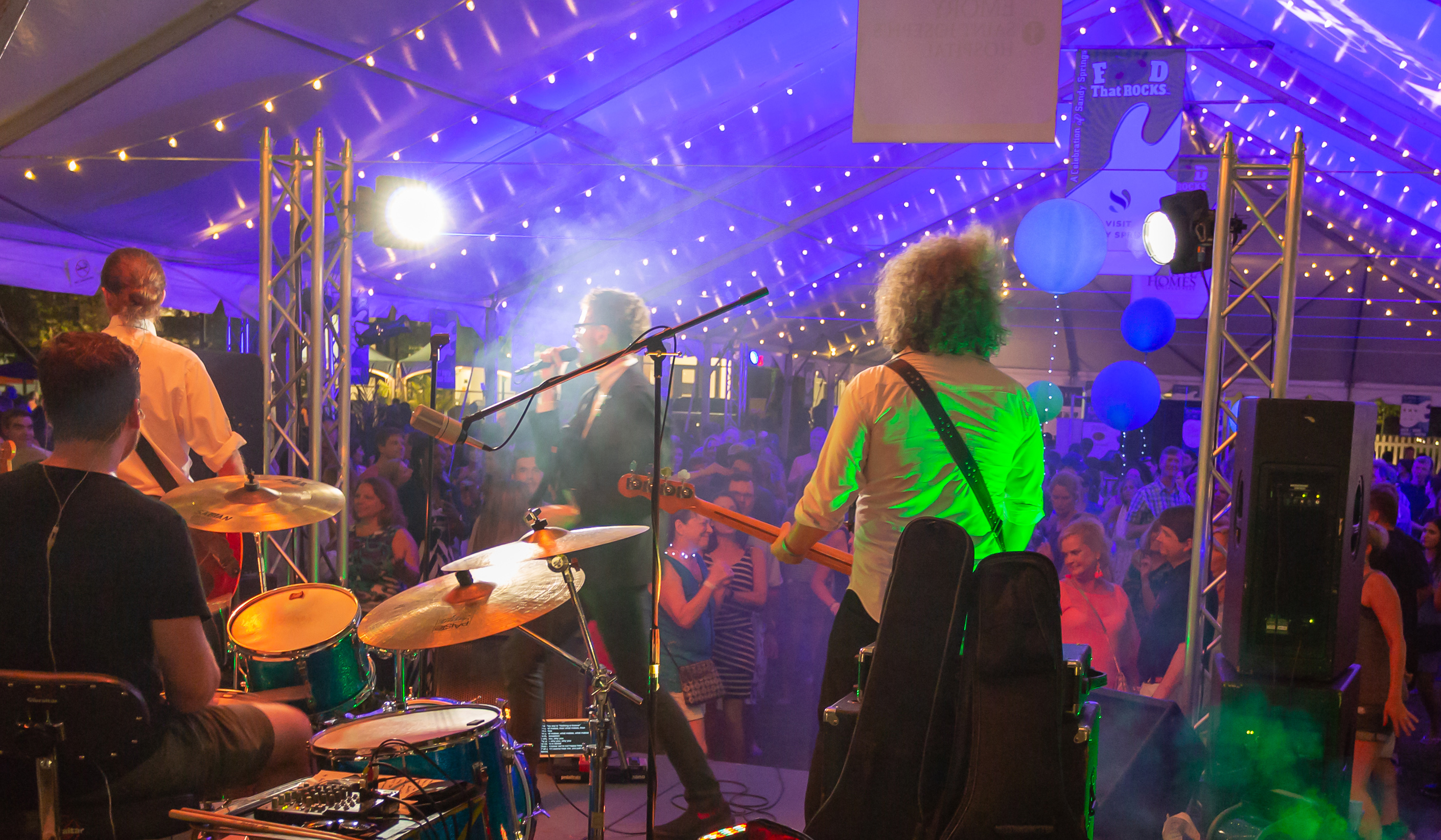 It's not a party without live music, and each Food That Rocks session will feature a different band! Bumpin' The Mango kicks of the event on Thursday night, bringing their danceable mix of funk and soul to City Green. On Friday night, The Beatles tribute band, The English Rain, will entertain the crowd with the greatest tunes from the Fab Four. The daytime session on Saturday will feature Lilac Wine, an acoustic ensemble that performs popular songs of all genres from the last 50 years. Finally, on Saturday night, Saved by the Band ends the festival on a high note with their fun and familiar '80s and '90s covers. Once they start playing your favorites, you won't be able to keep yourself from dancing the night away.

5. Food That Rocks is Rain or Shine
There's no need to worry about Food That Rocks being canceled due to weather conditions; it's a party rain or shine. The food vendors, beverage providers, and musicians are set up under a large event tent, so you'll stay dry and have fun no matter the weather. Because of this policy, Food That Rocks tickets cannot be exchanged or refunded once purchased.

6. It's a Party with a Purpose
Food That Rocks was founded on bringing together community and entertainment for a cause.  This year's festival is shining the spotlight on the brave frontline workers and restaurant superheroes who have given so much to our close-knit community throughout the pandemic.
A portion of each ticket sold will cover the cost to allow a select number of COVID frontline healthcare and public safety workers to attend free of charge as a special thank you for their efforts during the pandemic. 
In addition, Food That Rocks is working to help replenish the Community Assistance Center (CAC) food bank. Guests who bring one of the non-perishable goods listed below to the event will be entered to win a culinary prize package awarded that evening/session.
 
7. It's the Biggest Party of the Year
Food That Rocks is Sandy Springs loudest and liveliest 21-and up party of the year, and you don't want to miss it. Pre-event tickets are $80/person, and day of tickets are $100/person. Tickets are all inclusive, and get you unlimited food and drink samples, along with an evening of live music and dancing.
Grab your friends, your spouse, or a whole group, and join us for this wonderful celebration of Sandy Springs' fabulous food and culture.
More detail about the event can be found at FoodThatRocks.org.