It is more important than ever to support small businesses as you do your holiday shopping. Sandy Springs is home to a variety of boutiques and specialty shops. From beer brewing kits to running shoes, you are sure to find something for everyone on your list! Here is a gift guide to some of our favorite small businesses in Sandy Springs: 
For the foodie
If you are looking to score major brownie points with the gourmet in your life (pun intended), buy them locally made treats from Susansnaps, a cookie shop that specializes in gingersnap cookies in a variety of flavors and package sizes. You can get a stocking stuffer snackpack for only $7.25 or a Holiday Happiness Grand Box with three festive flavors for $32.25. You can also add on a donation to the Susan Carve Foundation with your order, which will provide Sunsansnaps to patients going through cancer treatment at local hospitals. 
Another local favorite known for their baked goods is Breadwinner Cafe and Bakery. They sell sweet homemade breads by the loaf in several different flavors including pumpkin, cranberry orange, mocha chip and peach. You can buy a single loaf for $26, a package of two for $47, three for $66, or four for $82. 
New to Sandy Springs is Buno Fornello, a café and bottega specializing in Italian foods. The shop features a variety of specialty foods and gifts that are perfect for the cook in your life. You can get items like fresh pasta and sauces in convenient packages to take home. Their authentic imported goods are sure to please any Italian food fan. 
Looking for a splurge worthy gift? Consider a giftcard for cooking classes from Young Chefs Academy for the little cook in your family. 
For the beer or wine lover
Pontoon Brewing is Sandy Springs first microbrewery. Not only do they have a variety of beers on tap daily, they also sell canned beers, barware and apparel. Beer drinkers will love both their flagship beers and their limited release seasonal beers like Tall Dark & Smokey, a smoked porter that is part of a special collaboration with Philips Barbeque Co, or Gingerbread Murder Scene, a gingerbread inspired imperial stout.
If you are looking for something a little more creative, check out Beer and Wine Craft. They have been providing supplies for home brewers and winemakers for over 40 years. They sell wine kits, beer brewer supplies and ingredients, and even cheese making supplies.
For the creative 
Artists and crafters will love a take home art kit from one of the art from one of our local art studios. The Sipping Plant offers DIY string art and terrarium building kits. Sips N Strokes and Painting with a Twist provide painting kits. 
Is there a musician on your list? Head to Sandy Springs Music where you can purchase equipment for guitarists, string players, drummers and brass and woodwind players. You can also purchases classes for the budding musician in your life.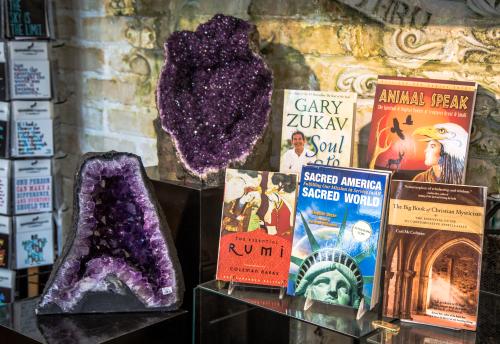 Not quite sure what you are looking for yet? You are bound to find something interesting at Phoenix & Dragon Bookstore! They sell a wide variety of gifts including books, candles, clothing, wind chimes, lamps and jewelry.
For the pet parent
Have a loved one that is obsessed with their pet? Or does that describe yourself? Either way, you can find high quality dog treats, toys and food at both Dog City Bakery and The Whole Dog Market in Sandy Springs.
In addition to a wide range of dog items, Dog City Bakery offers adorable homemade dog treats and cakes for your four-legged friend.
The Whole Dog Market specializes in healthy dog and cat foods including holistic raw and freeze dried products. They also offer great monthly deals on different brands of treats.
For the fashionista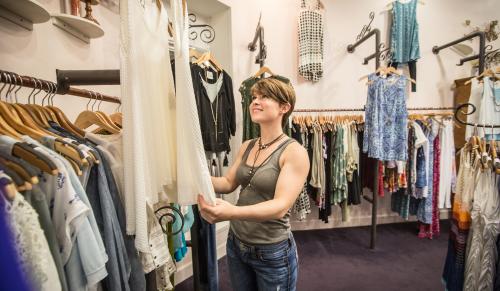 Veronica's Attic is a family owned boutique that sells stylish clothes and accessories and other gifts in an inviting setting complete with a boutique dog ready to greet you. Here you will find the perfect gift for the most fashionable person in your life. They also launched an online shop this year so you can do all your shopping from the comfort of your home. 
At The Drake Closet, you can find great deals and support a worthy cause. The boutique sells new and gently used ladies clothing and the proceeds benefit The Drake House, an organization that supports homeless women and children. Prices range from $3-25.
For the Fitness fan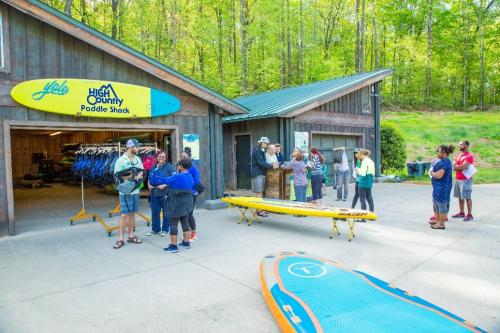 If the person you are shopping for loves exercise and the great outdoors, consider getting them a High Country Outfitters Paddle Shack Gift Card. The High Country Paddle Shack is located at Morgan Falls Overlook Park and is open during the spring and summer for kayak and paddleboard rentals.
Also, make sure to check out Phidippides, one of the oldest specialty running shops in the country. This Atlanta institution was founded in 1975 by Olympian Jeff Galloway. Here you will find the best running shoes, appear and gear for the most active person on your list.
Haven't found exactly what you were looking for? Check out our full directory of shops in Sandy Springs. Happy shopping!