The Atlanta Braves have a gorgeous new stadium just down the road from Sandy Springs. Here are five hacks to save you time and money on your next trip to SunTrust Park.
Hack 1: Park And Walk
The parking decks next to the stadium are as warmly inviting as a Freddie Freeman bear hug. They're the closest place to park. They're secure. You can even buy a pass ahead of time here.
Other good options, especially for you power-walker types, include the East Lots. These $20 lots are about a 15 minute walk to the stadium. For further info, our friends at the AJC have a good guide to stress-free parking at SunTrust Park. There's also an Uber Zone on Windy Ridge Parkway for anti-walking advocates.

Hack 2: Be Fashionably Early
Move over, Wrigleyville. The Battery at SunTrust Park is an instant contender for best pre-game party scene. Don't believe us, ask MLB Commissioner Rob Manfred. He called SunTrust Park and the Battery "the future of baseball." We think he means the good future, not the post-apocalyptic kind. Anyway, the lineup is stacked from top to bottom with big hitters such as Antico Pizza, Yard House, and, record scratch, a Marky Mark burger joint! Check out the Battery's full list of restaurants and shopping here.

Hack 3: Victory Is Sweet, Even Deep In The Cheap Seats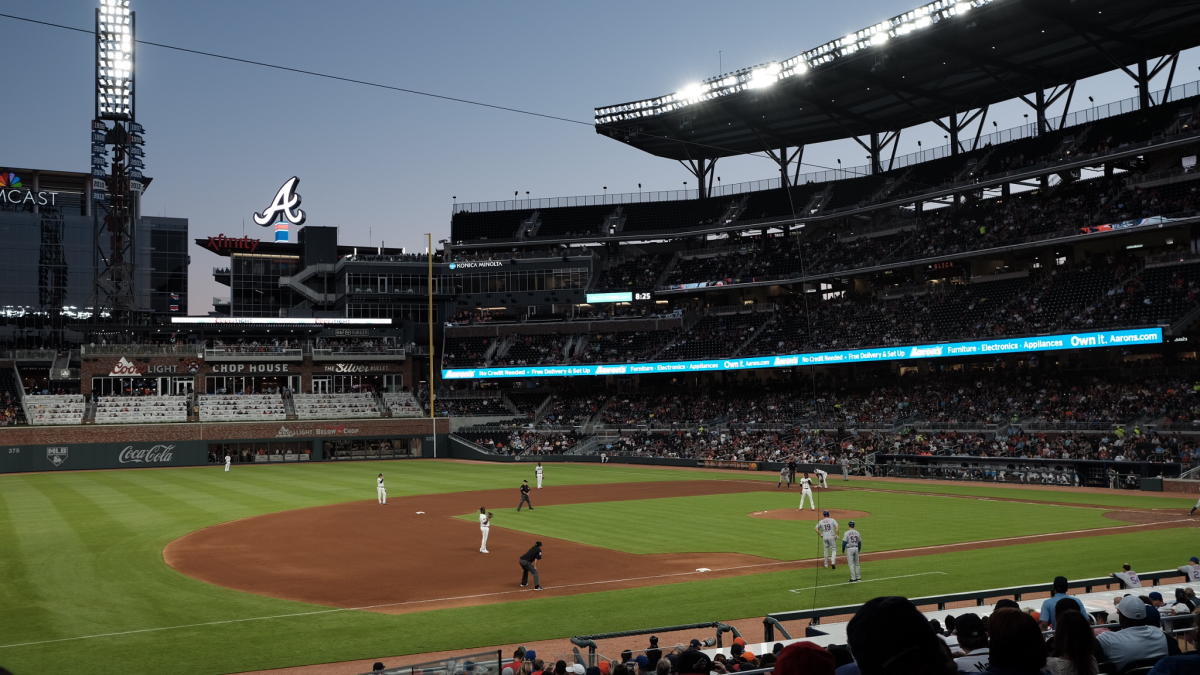 Baseball is the most family-friendly sport out there. It's even cheaper than going to the movies. You can find cheap Braves tickets for as little as $7, in fact. OK, sure, these seats may cause nose bleeds, but who cares? Casual fans are really just in it for the snacks. Speaking of…

Hack 4: Consider Eating An Inning At A Time
The food scene at SunTrust Park is ridiculous. A sampling: Get gourmet sausage at famed Athen's chef and "Top Chef" judge Hugh Acheson's First & Third Hot Dog and Sausage Shack. Grab a double stack at H&F Burger. Smother your heart in covered hash browns at the Waffle House. There's even a Gu's Dumplings in Section 148. It's an embarrassment of riches, so pace yourself. Our pals at Eater put together a full breakdown on where to eat at SunTrust Park.

Hack 5: Stay In Sandy Springs
Sandy Springs is the only place where you can spend a day on the Chattahoochee River and then head up 285 for a night at SunTrust Park. You can find great rates on affordable Atlanta-area hotels right here on our website. OK, enough self-promotion, we're really not narcissists. We just like it here. We like Dansby Swanson too. Kid's got great hair.
Want more ideas for a well-played life?
Read these tips for How to Plan the Perfect Day on the Chattahoochee River and also check out How to Shop in Sandy Springs on a Budget.