Baseball. Bald Eagles. George Washington. Few things rival the time-honored American tradition more than a good, old-fashioned burger. The beauty of the burger is its versatility. All you need is a bun, a patty, and whatever  else happens in between. And honestly, you don't really even need a bun. All this to say, for a truly great burger experience, it needs to be original and authentic. Luckily for us, Sandy Springs has plenty of those to offer!
Battle and Brew
Battle and Brew is not only home to the countless sources of fun in the form of video games, board games, trivia, and more. It's also home to some of the best burgers you can find in the metro-Atlanta area. You can find the "Il Classico", a 2x winner of the best burger in Sandy Springs, as well as other pop culture-inspired burgers such as "Little Mac", "The Ghost Buster", and "K-Pop". You'll have to be a repeat visitor just to give them all a try!
Fuego Mundo
For all our vegans out there, check out Fuego Mundo's Mediterranean Veggie Burger! It comes with a whole-grain bun, a veggie-patty topped with hummus, legumes, lettuce, and onion mustard, which provides a flavorful bite to say the least! They also offer beef, chicken, lamb, and even a salmon burger, so you really can't go wrong here. Not only does Fuego Mundo serve healthy burger options. They're menu is Kosher as well!
Hearth Pizza Tavern
Who goes to a pizza place to order a burger? We do. Don't knock it till you try Hearth Pizza Tavern's "Up In Smoke Burger", which has their house sauce, applewood-smoked bacon, cheddar cheese, caramelized onions, calabrese pepper, and a smoky Calabrian chili glaze. We know it'll be hard to pass up their countless pizza options, but it's worth it to try. Trust us!
Kaiser's Chophouse
Kaiser's Chophouse specializes in high-quality steaks and other types of meat, so you can be sure they know how to work a grill. That comes across in their delicious "Kaiser Burger", containing grilled Bermuda onions and gruyere on a brioche bun. The taste, coupled with the ambience will leave you wanting more!
North River Tavern
Next on the list is a burger from the long-standing Sandy Springs restaurant, North River Tavern. Here, you can find the U.F.O (Ultimate Fried Onions) Burger, which as the name suggests, is out of this world! It comes with two large onion rings on top that are wrapped in bacon and stuffed with cream cheese, blended cheese, and diced jalapeño. Couple that with fresh arugula, homemade pico de gallo, a cracked pepper, honey mayo and a sweet and spicy chili glaze, and you have yourself one savory meal!
Southern Bistro
Not many do southern-style cooking better than Southern Bistro. They're also one of the best brunch spots in Sandy Springs, and their "A.M. Burger" is a big reason why. It's topped with applewood Bacon, a fried egg, swiss cheese, arugula, and aioli, all on a Belgian waffle bun. If reading that doesn't make you hungry, then you might want to get in touch with your doctor, because something ain't right. It's the best breakfast burger we've tried bar none!
Thos. O'Reilly's Public House
Known for their original takes on traditional Irish dishes, Thos. O'Reilly's Public House is home to the delicious "Dubliner Burger", a 6oz lamb patty stuffed with onions, peppers, white cheddar, lettuce, and tomato, all placed on a fresh brioche bun with curry aioli. Don't be alarmed if your suddenly proficient at bagpipes after trying this one out! (Just kidding).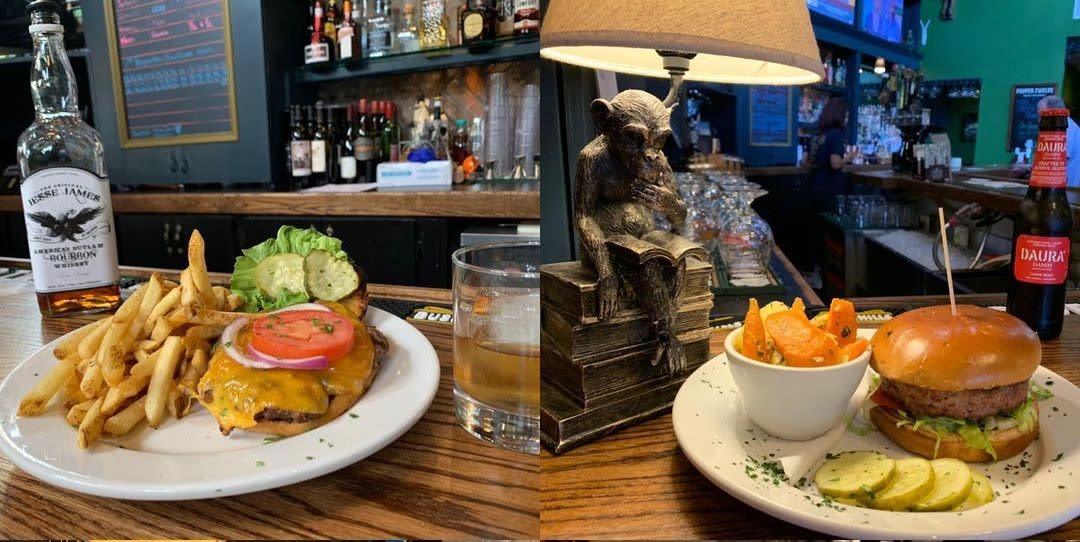 The Select
The Select is one of the most-renowned upscale restaurants in Sandy Springs, and for good reason. Their setting, atmosphere, and menu are second to none, offering a wide range of eclectic cuisine from pasta to seafood to steaks. They also offer a unique 8oz lamb burger topped with arugula, goat cheese, mixed mushrooms, and a fig mustard aioli that is truly one-of-a-kind. We're not saying it tops their filet mignon, but it's closer than you might think!
You definitely need to give these burgers a shot if you live in Sandy Springs or are just passing through. They will surely leave a lasting impression on you taste buds. Happy eating!